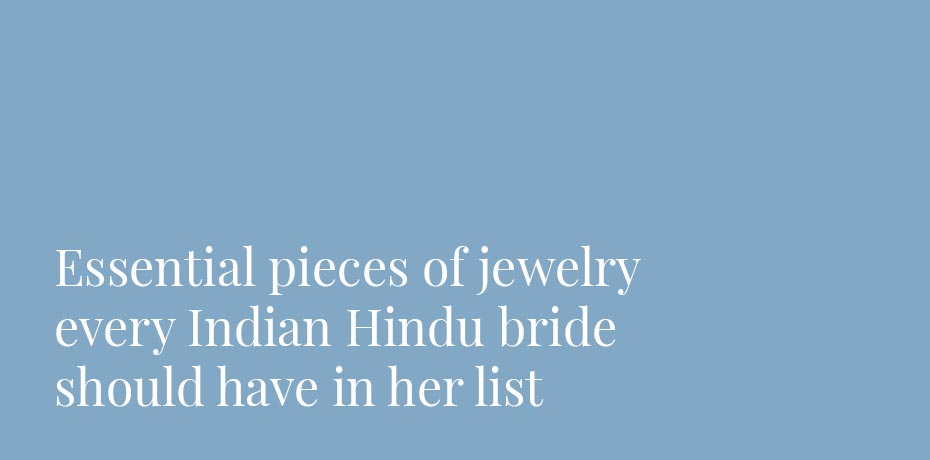 Essential pieces of jewelry every Indian Hindu bride should have in her list
Indian jewelry is known for its fine craftsmanship and intricately detailed designs. Indian jewelry designs are crafted infusing cultural and spirituality into each piece, keeping in mind the auspicious nature of a wedding along with the need to adorn a bride in grand finery so that all eyes are on her. In all cultures; there are certain jewels that a bride wears according to religious or cultural customs. These jewels are worn to represent certain beliefs and make a bride look majestic and spectacular on her big day.
With a traditional Indian Hindu wedding, jewelry plays a huge role, as many jewels feature in the Solah Shringar. While garments vary from region to region, all brides tend to follow the Solah Shringar – the 16 essentials items that every Indian Hindu bride should adorn herself with on her wedding day. This list of items – which aim at enhancing a woman's look from head to toe – is thought to intensify a bride's beauty and includes a good deal of jewelry. We delve into the significance and beauty of Indian jewelry that is essential to a traditional Hindu wedding.
1. MAANG TIKKA
The Maang Tikka is regaining its former glory as modern brides go back to their roots and appreciate this beautiful bridal accessory. This piece of jewelry is a part of the bridal set so will be in the same gold and design as your necklace, earrings, etc. Meant to be worn across your center-parted hair and hung down toward the forehead, the Maang Tikka looks beautifully Indian and can be chosen in a size to suit your face. Go with a heavy, impactful Maang Tikka if you have a larger forehead. For those with smaller foreheads, smaller, delicate ones look more appropriate.It is believed that the pendant part of the Maang Tikka rests on the area of a woman's head that houses the agya chakra, which stands for preservation. This represents a union of the bride and groom on an emotional, physical and spiritual level.
2. NECKLACE
A piece of jewelry, also known as haar, that no bride should go without, the Indian bridal necklace is also known as the haar and is often a grand design. Where traditional these necklaces were only crafted in gold, more modern pieces feature stunning designs that include diamonds, pearls or coloured gemstones set in not just yellow gold, but white and rose gold as well.
3. EARRINGS
The earrings have to perfectly match the necklace, of course. The beautifully coordinated design of all the Indian wedding jewelry adorning the woman is what makes an Indian bride such a magnificent sight to behold.Most Indian bridal earrings, like the necklaces, tend to be on the heavier side to match the set, though some brides prefer more delicate pieces for comfort as it has to be worn through the whole day. Make sure to choose your earrings and all your jewels with your wedding outfit in mind, For example, diamond jewelry suits pastel-shaded wedding saris or lozenges extremely well. Fabric in shades such as light pink, baby blue, aqua or mint green goes very well with the fantastic sparkle and sheen of diamond and gold jewels. Yellow and white gold suit the more traditional red and maroon wedding outfits; a stark and beautiful contrast of bright gold beauty against the richly-hued fabric.
4. NOSE RING
Although it is now popular all over the world as a fashion accessory, wearing a nose ring, or the nath, is an important part of Indian wedding jewelry for brides as it is a symbol of marriage. In Hinduism, a nose piercing is thought of as an ode to the Goddess of marriage, Parvathi.In a few places in India, nose rings are worn only by married women. But not all brides are comfortable wearing nose rings though and many opt out. You can choose to wear a tiny stud or an elaborate ring that connects to your earring by a decorated gold chain; how big you go depends entirely on you. If you have not pierced your nose but still want to complete your wedding look with a traditional nose ring, there are a whole range of good-looking clip-on varieties that you can purchase.
5. BANGLES
Ask any bride-to-be and they will tell you that no Indian bridal outfit is complete without bangles. These are perhaps one the most noticeable jewelry pieces on the bride. In fact, all over the world, North Indian newlyweds can be spotting with forearms' worth of telltale chooda still adorning their hands on their honeymoons as they are meant to keep the jewels on for a year or at minimum at least 40 days.
In Indian culture, it is said that after marriage, a woman should not keep her arms bare. Bangles are also said to represent the luck and wellbeing of a woman's husband according to some Indian traditions. Brides either wear diamond and gold bangles, metal bangles, or glass bangles in bright colors like reds and greens. The number of bangles you need to wear will vary according to the traditions of different regions and sects in India.
6. FINGER RINGS
A bride's fingers are decorated with rings to emphasize on her already opulent look. Usually, she will wear her engagement ring as well as a ring that matches her earrings and necklace from her wedding jewelry set. In addition to these, she can choose to adorn any or all of her fingers in jewels to match her outfit, such as jewels with colors gems, or rings with some sentimental significance.
7. ANKLET
Also known as a payal, the anklet's beautiful and gentle sound, the tinkling of small bells, is an announcement that a new bride is arriving. Along with toe rings, this delicate and musical jewel succeeds in beautifying a bride from head (with the Maang Tikka) to foot.
8. TOE RINGS
Toe rings, or bichiyas, are popular in South India and are regarded as a symbol of marriage. These rings are worn on the second toe of each foot and, just like a wedding ring in Western cultures, lets people know if your marital status. Once on, a woman is not supposed to take off these toe rings until after her husband dies.
9. WAISTBAND
Traditionally known as the kamarband, this bejewelled waistband is usually crafted in gold and draws attention to and decorates the bride's bare torso, enhancing her natural feminine curves. While the kamarband has not been extremely popular with brides in the recent past, it is quickly regaining popularity for its unique and sensual look.
Apart from these essential pieces, if interested, you can also give a thought about armlets, studded saree pins, foot harnesses, saree brooches, etc. Remember that this is your big day... leave no stone unturned in your pursuit to be the gorgeous bride!