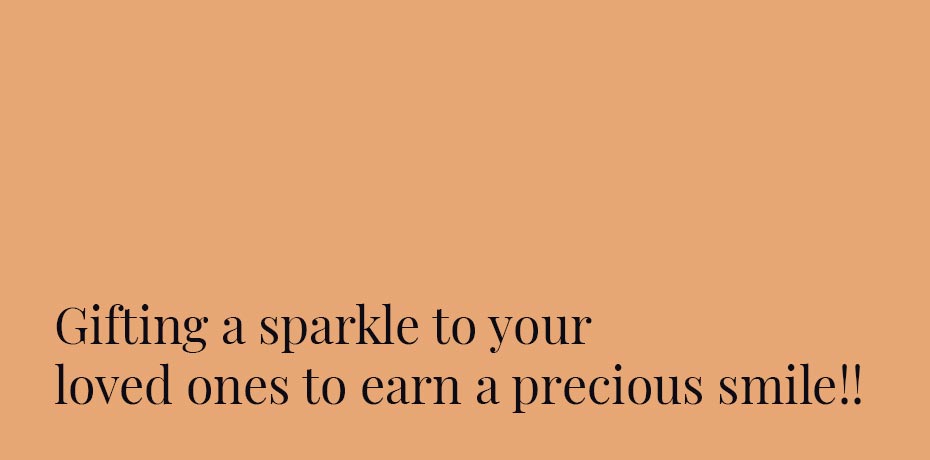 Gifting a sparkle to your loved ones to earn a precious smile!!
Gift-giving season is right around the corner and whether you're a good gift-giver or not, it's time to get your thinking cap on! Finding the perfect gift for your family member, friend, or that special someone can be very tricky and sometimes frustrating. With thousands of gift idea lists online, it's also very easy to get overwhelmed and lose sight of what your loved one might love to receive. If you've gone down that rabbit whole and are struggling to find a good gift, consider these jewelry gift ideas!
TOP NINE JEWELRY GIFT IDEAS YOUR LOVED ONES WILL ADORE
When gifting someone jewelry, you'll want to steer clear of jewelry produced by fast fashion companies, which can sometimes look cheap and break easily. Instead, focus on "affordable luxury" brands. These brands use higher quality materials and have more intricate, sophisticated designs. Additionally, picking timeless, luxurious, quality pieces is essential when gifting jewelry. Sticking with a silver or gold-toned color palette is the way to go.
1. EVERYDAY EARRINGS
Coming in at the top of our jewelry gift ideas is earrings. Everyone needs a great pair of everyday earrings. If someone in your life is lacking basic, classic earrings, don't hesitate to get them this gift! They will definitely get some use out of them. It's best to stick to classic studs, such as small diamond, crystal, or pearl studs, or simple teardrop earrings. Getting the color right for this pair is extremely important.
2. A LONG NECKLACE
Long necklaces are a staple in anyone's closet. They can be incredibly classy when dainty and small, or luxurious when bold and intricate. They can be easily layered with other pieces and tend to add the perfect amount of class to any plain outfit. They elongate the neck and torso and can make you look polished, yet relaxed. A long necklace is a great gift for anyone in your life, old or young!
3. A CUFF BRACELET
If you want to get your loved one a bracelet but are unsure as to what size bangle they would wear, stick to open cuff bracelets! They are incredibly trendy at the moment, and some very classy designs are on the market right now. The open cuff design will make sure the bracelet fits whoever you gift it too! Once again, make sure you pick the right jewelry tone. You don't want these beautiful pieces to wash out your friends or family members.
4. THE DIY PROJECT
If you want to give someone a heartfelt, meaningful gift, try personalizing or making your own jewelry. Head on over to the craft store and make your loved one a stamped necklace or bracelet with their name on it, a bangle with their favorite quote or initials, or necklace with a locket containing a picture of you together. There are so many DIY jewelry gift ideas, and the finished product doesn't have to be perfect or magazine worthy. It just has to come from the heart.
5. THE PERSONALITY MATCH
Have you ever looked at something and have been instantly reminded of your best friend, sibling, or parent? It happens to all of us, and one of the best jewelry gift ideas comes from incorporating inside jokes or personal facts into jewelry. It can be a great, and sometimes even funny, gift.If there is one person you always get together with to sip wine and gossip, why not get them a wine glass charm on a necklace or bracelet? If your sister loves dragonflies, get her some dragonfly studs! They will not only love the gift, but will also appreciate how well you know them.
6. THE STUNNER
If you want to make a statement, look no further. Gifting someone a stunning ring will win you the best gift-giver award of the year. Rings are such a beautiful gift because they can symbolize love, commitment, friendship, appreciation, and support. You might get your lovely lady to shed a tear with this one!
7. A POP OF COLOR
You can never go wrong with a chunky red coral necklace or earrings. Providing the perfect pop of color for the Christmas party or 4th of July bash, this versatile piece is sure to be a year-round hit.
8. THE STATEMENT PIECE
This one is to commemorate or celebrate that special person in your life. The statement piece should inspire a "wow" when it's opened and worn - as all eyes in the room are turned in admiration. We recommend an antique designer statement necklace as a piece that will not only be worn with pride but passed down to future generations.
9. THE ONE FOR YOU
Although giving your loved ones gifts can be fun, sometimes you've got to treat yourself! There's nothing wrong with splurging on yourself every once in a while. Figure out what you like and give you a little gift too! You deserve it. If you think they'd want to choose something of their liking, and then take them along. It's lovely to decide together, to see what fits and what doesn't. Shopping with your favorite people is always fun. Or you can even place an online order and get the gift delivered on the special day. If you enjoyed our top nine lists of jewelry gift ideas and are still aching for more, check out some of the affordable but luxurious pieces in our mass collection! We're bound to have something for everyone on your list.