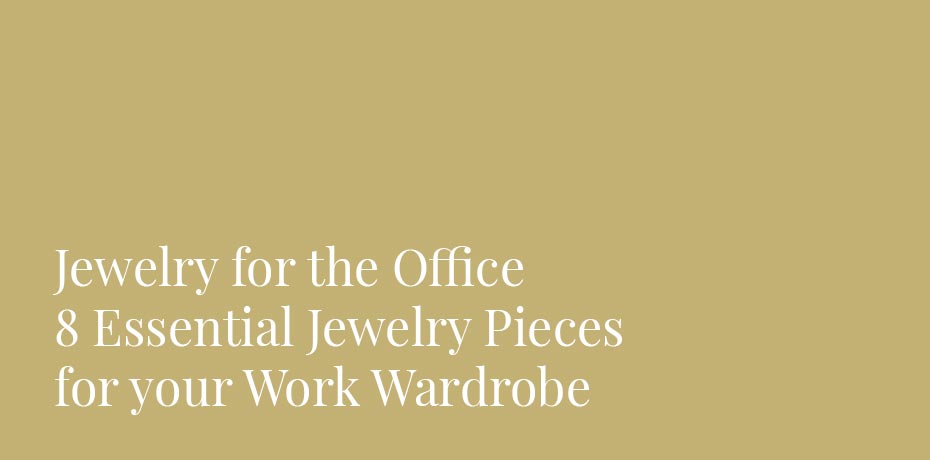 Jewelry for the Office - 8 Essential Jewelry Pieces for your Work Wardrobe
When it comes to the business world, things may get a little foggy. How do we know what kinds of jewelry is work appropriate and which ones are better left for a girl's night out? Because we're professionals, we want to make the best decisions possible when choosing our business casual jewelry. When you're running late for your morning call; you definitely are not going to waste precious time in deciding which earrings match with your dress- might as well skip the earrings altogether right? But what if you make sudden dinner plans after office or have a client meeting later? Pausing to pick a few accessories to liven up your outfit doesn't seem such a bad idea now, does it! Dressing the part definitely makes a great difference to the way people perceive you and your work and adding little details here and there, like jewelry or subtle accessories, can prove to be a game changer for your work wear look. We know that it is important to keep your work wear simple and professional but you can still look stunning by incorporating a few tips and tricks.
Here's how you can complete your professional look and climb stylishly up the corporate ladder with a versatile work wear jewelry collection. We've put together a list of 8 business casual jewelry pieces that are more than appropriate for completing your business attire. Continue reading to learn more.
1. DIAMOND/CRYSTAL STUD EARRINGS
If you're concerned about spending money on jewelry that you're only going to wear to work, let us put your mind at ease. Diamond or crystal stud earrings are a timeless piece. They're never going out of style. And they're a fabulous feature to add onto your business casual wardrobe. They're simple yet elegant and look great with any outfit. Because of this, after a long day of work, if you're ready to slip out of your slacks and slip into your little black dress for some much-needed cocktails, you won't have to worry about changing your earrings.
2. PENDANT NECKLACES
To avoid bringing in too much attention but still get that flair that you desire, consider wearing a diamond or crystal pendant necklace over your business attire. A pendant necklace with smaller crystals says just enough without being too in your face. Because you'll be wearing this piece as a professional, you won't want to choose anything too gaudy. Stick with a cube, marquise, or solitaire shape. A pendant necklace like the Swarovski Green Teardrop features a green crystal pendant surrounded by Swarovski crystals. You can place this pendant on any chain that you wish. It's a brilliant way to make a bold statement without needing multiple or large pieces.
3. LENGTHY CHAIN NECKLACES
Lengthy chain necklaces are great for bringing you versatility. Delicate lengthy chains can be worn with other similar chains or by themselves. You can also wrap them to make it appear that you have on two chains. These long and slim chains are elegant and great for matching with business casual outfits. They come in many different styles, so you have plenty of options.
4. TASTEFUL GOLD HOOP EARRINGS
Hoops of any size, color, or style look great when needing a final touch on an outfit. But when dressing up for the business world, a simple crystal embedded hoop earring will do. Hoops like these are the best way to feel classy during and after work. It's especially a good idea to wear a pair of hoops when deciding to wear your hair up for the day. Wearing your hair up high in a bun or such leaves room for a pair of hoops to really shine.
5. PEARL STUD EARRINGS
Pearls are another timeless jewelry piece. You can never go wrong with an elegant pair of pearl studs. They're perfect for the business casual workplace and for a night out on the strip. You'll want to choose a size that doesn't cover your entire earlobe or fall past it. Keep the pearl small enough to sit just right on your ears. This look is simple, elegant, and extremely classy.
6. PEARL BRACELETS & NECKLACES
Pearls don't only look fabulous on your ears. They look great on around your neck and wrists too! And they're a great way to add the perfect feminine touch to your business attire. If white pearls aren't your thing, or if you're afraid white might be too bold, don't worry. You don't have to stick to the classic white pearl look. You can find pearl necklaces and bracelets in a variety of colors. You can choose gray colored pearls for a more sophisticated look.
7. STACKABLE MINIMAL RINGS
Stackable minimal rings are classy and delicate. You can mix and match the different rings on separate fingers or multiple rings on one finger. These rings are usually very thin and have minimal decoration or design on them. If you're not sure that you'll be able to stack these rings fashionably, then consider checking out something like the 4 Ring Stacked Sterling Silver Ring. This ring comes with the 4 rings stacked together all in one. All you have to do is simply slip it on the finger you desire.
8. BANGLE BRACELETS
Bangle bracelets can be worn alone or matched with other bangles. These bracelets come in different styles and metals and have been around for years. They can be the perfect accessory to your business wardrobe when worn correctly. If deciding to wear more than one bangle, keep them together on the same wrist and don't add anything too flashy on your other one. If you want to wear multiples, make sure that they remain the focal point of your outfit. It's easy to overdo it when wearing multiple bangles, which may not work well for a business casual atmosphere.